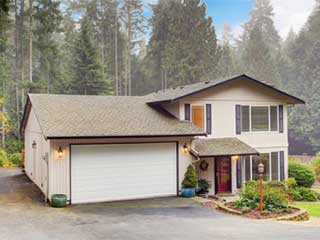 Selecting the best garage door for your home can be a daunting task. After all, it is your automatic door system that will have the greatest impact on the curb appeal of your home. Everything needs to be considered; the size, the color, and even the technical aspects.
Sizes and Styles
The first thing that must be determined is the size of the garage door that you need. Take accurate measurements of the height, width, and thickness of your existing garage door as a reference. Next, you must choose the style that best fits your home's exterior. You can choose from different designs like carriage house, flush, long raised, or short raised panels. Each of these designs will impact the overall look of your house.
The Material Makes All The Difference
The next factor to consider is the material your garage door will be made of. You can opt for wood, with a variety of paint or stain grades to choose from. Wood is a great insulator, which means it will allow you to sustain a desired indoor temperature more easily. However, it will require more frequent maintenance in order to keep it from rotting or warping. You can choose steel as your door material, as it offers durability and security. Of course, steel can develop rust, so some routine maintenance and inspection will still be required. Aluminum, on the other hand, requires very little maintenance, if any. It is also very light, and doesn't require a powerful opener. It can dent more easily, though, so if harsh weather can end up damaging it.
Don't Forget About The Opener
While choosing the right type of door is important, you should also consider the fact that whichever material you end up going for will determine how powerful your opener will have to be. Heavier doors require more horsepower output, and some types of openers, such as screw-drive models, are usually the ones that are used when dealing with heavier weights.
Maintenance is The Key to Longevity
Regardless of which door and opener you end up getting, regular maintenance should always be a priority. There is simply no better way to make sure every mechanical and electrical component remains functional and optimal for as long as it can without regular inspection, lubrication and timely replacement. Contact our experts at Garage Door Repair Berwyn for more information.