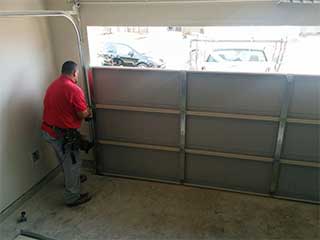 If some part of your garage door system broke or suddenly started malfunctioning, don't get disheartened. It's true that these complex machines must be handled by professional technicians, but that doesn't mean the service will cost you an arm and a leg. Our team provides local homeowners with affordable repair services that are effective and reliable.
Springs Tend to Make a Scene
One of – if not the – most common garage door problems people experience is a broken spring. The reason is completely understandable. These components have to support the weight of the door panels every single day, so they will inevitable suffer from the accumulation of wear and tear damage. Don't worry, though. Our specialists will make sure they are replaced without delay, and we'll get the job done without compromising your safety.
An Opener's Woes Are Plentiful
The unit in charge of powering the automated operation of your garage door is the opener. It is an electro-mechanical device that houses both a motor and a digital operating system. As you can guess, that means it can suffer from a variety of issues, all of which are liable to render your automatic door inoperable. Once again, you should not worry. Our team is well equipped and our technicians are thoroughly trained to repair opener problems of every conceivable kind. Whether it's a damaged motor gear or a fried electrical cable, you can rest assured that we'll fix the issue in little to no time at all.
Contact Us Today
While some problem may seem too big to handle, believe us when we tell you that we will always have a solution available. We've been a leading garage door service provider for over two decades now, and there's no problem we haven't already dealt with. Call our experts at Garage Door Repair Berwyn for any related need.
We Also Offer:
Belt Drive Garage Door Openers
Liftmaster & Genie Garage Door Openers
New Garage Door Remotes & Clickers