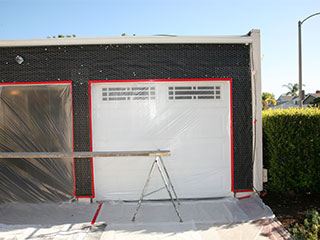 Keeping your door in good condition is essential. If it should fail completely, it can be both expensive and difficult to repair. It's also extremely awkward not to be able to easily access your garage when you need to. It's always best where possible to prevent problems from developing ahead of time.
The Need for Servicing
Many common problems with garages can be prevented with regular service checks. The working parts of these doors are under a great deal of tension, and are used hundreds of times every year. It's no surprise that the moving joints, springs, cables and rollers bearing the load of this constant use need occasional lubrication, tightening or alignment.
How Often Should you Service?
The whole point of preventative maintenance is to catch problems before they arise, which means maintenance needs to be carried out when there are no obvious problems with your door. Many garage door manufacturers recommend annual servicing, and some make this a condition of their warranty.
At a Service Inspection
When our technicians attend your property for a maintenance visit, the first thing they'll do is inspect the door's overall condition. This is essential for establishing what attention is required where - our specialists will then lubricate, tighten and adjust as necessary.
Detecting and Addressing Faults
During an inspection, our team will highlight any causes for concern. Some parts may be heavily worn and in need of replacement, or may show significant signs of weakening. By catching these faults before the parts completely fail, replacements can be arranged in good time, rather than waiting until it's too late.
Arranging an Inspection
We strongly recommend that all garage doors receive regular maintenance inspections in order to extend their working life. If you have a door that's in need of expert attention, contact Garage Door Repair Berwyn today to find out what we can do to help you.
In addition, we offer:
Part Replacement & Lubrication
Genie Garage Door Openers
Oil Tempered Torsion Springs
Emergency Garage Door Services