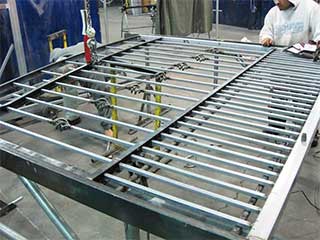 You don't need to try and deal with problems with your automated gate system by yourself. In fact, it'd be dangerous for you to even try. These complex electro-mechanical devices can be dangerous to handle without professional training and the right set of tools. That's where we come in.
Fixing Electrical Issues
If your gate fails to open or close when you want it to, or starts behaving erratically for seemingly inexplicable reasons, something could be wrong with your opener's circuit board. Even just a single fried wire can cause plenty of different problems. Luckily for you, our technicians specialize in solving both mechanical and electrical issues with sliding and swing gate systems, and we can replace even the entire circuit board if that's what it takes to have your gate operating optimally again.
Repairing Hardware Parts
Whether it's dented wrought iron bars that need to be repaired, or a misshapen track that needs to return to its original form or to be completely replaced, we can help. From dealing with something as small as rusty hinges to as big as the entire gate's 'door', our professional technicians can get the necessary work done quickly and safely.
Installing New Openers
It takes a trained hand to make sure a gate opener is installed correctly. If this type of work gets mishandled, it could result in both immediate and long term problems that will not only make your gate system a real hassle to deal with, but also potentially dangerous as well. Our experts can help you find an opener unit that's perfectly suited to your gate, and install it in a timely fashion without compromising quality for speed.
Contact Us Today
When it comes to installing or repairing automatic gates and their various parts, there's simply no one better than our experts at Garage Door Repair Berwyn. Call us today for any related need!
Count on us for:
Program Doorking Intercom