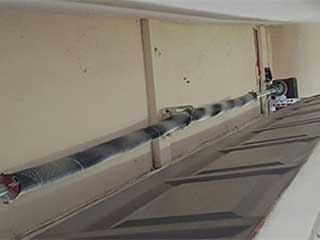 Some homeowners may become tempted to try and replace a broken garage door spring by themselves. We highly advise against it. These components are under a lot of tension on a daily basis, and if something goes wrong, they can end up hurting or damaging any person or object that's standing nearby.
What Springs Do
Garage door springs are responsible for counterbalancing the weight of your door, which in turn allows you to open and close it without breaking a sweat. There are two main types – torsion and extension – and they each operate differently in order to achieve a similar goal. Both of these types require an expert in order to be safely replaced or adjusted.
Replacement Done Right
It's no meager task to try and replace your garage door springs when they break. Aside from hurting you, which is bad enough, obviously, other parts of your system could end up getting damaged as well. Since the springs are in charge of supporting the weight of your door panels, they can cause the door to collapse when they are mishandled. Our technicians have years of experience under their belts, and they can perform this dangerous procedure without compromising your safety.
Regular Lubrication is Crucial
If you'd like to avoid a lot of potentially dangerous scenarios, then lubrication maintenance is the way to go. Your springs could greatly benefit from being applied with the proper type of lubricant on a regular basis. Not only will their performance be smoother and quieter, but their condition will be better preserved as well. While this is theoretically a less dangerous action, it's often best left to the experts. Our routine maintenance service includes both spring adjustment and lubrication, and our experts can make sure these important components remain functional for as long as they can.
Don't Hesitate to Call
Our experts at Garage Door Repair Berwyn will gladly come and help you out with any spring related issue you may be experiencing. Remember, it's better to be safe than sorry. Contact us today.
We also offer the following:
Roll up Garage Door Maintenance
New Opener Remotes & Clickers
Garage Door Cable Replacement
Torsion & Extension Spring Replacement